About IB Japan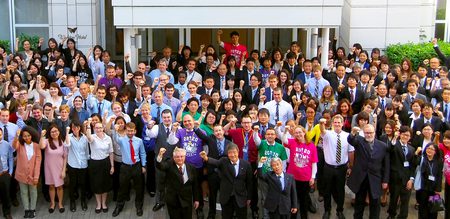 What makes us different than other English schools?
1.

We care about our teachers
.

We're not too big, so we know everyone. There is always someone available to provide support in English (apartment set-up, questions about documents, problems with the trains – anything!).
2.

No surprises
.

We take a more straightforward approach to placement and discuss it with you before you arrive (you don't find out just before signing a contract).
3.

No gimmicks
.

Your contract is clear and you always get your stated salary on time. We don't use overly-complicated incentive plans to determine your base salary.
4.

Continuous training and follow-up

to help you grow as a teacher. We won't forget about you after your first week.
5.

Upward mobility
.

We have opportunities for promotion and advancement for interested teachers.
6.

Social events
.

We are always planning events to give our teachers a chance to hang out with each other and relax outside of work.
---



We have over 80 schools & employ over 100 native-speaking teachers, this experience speaks for itself with publication of our own materials and recognition of our teaching achievement in other publications.




We approach business with a focus on consistent improvement and as a result we continue to expand. The IB Japan Global Culture Center is in it's first year, providing a wide variety of enrichment activities for the community.




IB Japan Co., Ltd. has been in business for over 30 years and specializes in providing exceptional English education. We are a proud member of J.A.P.F.L.E. (Japan Association for the Promotion of Foreign Language Education) working with the governmental Ministry of Education.



---
Message from Mr. Giichi Saito, Founder and CEO of IB JAPAN:



Hello Interested Teachers,




Allow me to introduce myself, I am the Founder and CEO of IB Japan. After my wonderful experience of living in California as a young man in my early 20's, I returned to Japan with a vision. I saw a greatness in being able to live overseas and to expand who we are through this experience. I wanted to provide this same opportunity to young-minded Japanese and to English speaking foreigners seeking to teach English in Japan. I created IB as an "International Bridge" to achieve this dual vision. I invite you to consider this offer and to help inspire young and old Japanese students to visit and potentially live abroad. It is an opportunity one will never forget. To truly be international we need to experience life internationally. Let IB Japan be that opportunity for you.




Warm Regards,




Mr. Saito