IB JAPAN TRAINING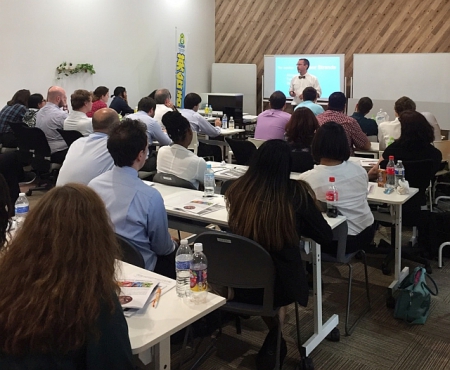 As a teacher with IB Japan, we'll provide you with a thorough training experience when you start. Whether you are new to teaching as a career, or already have experience, our training will help you reach the next level. You'll continue to receive additional training and feedback about your performance during your time as a teacher with us. We believe in supporting our teachers, so that they can reach their full potential. This is an outline of the modules you'll complete during your first weeks here at IB Japan.
Day 1
Orientation
Company Policy
Curriculum
Day 2
Survival Training
Young Learners
Day 3
Elementary-level Curriculum
Activities for Let's Go!
Day 4
Teaching Adults
Interview Training - Level Assessments
Day 5
Teaching Jr. High
Final Processing
In addition to this full week of training, you'll also have the benefit of observing teachers applying our pedagogy in a real classroom environment. We don't believe in throwing a teacher directly in the classroom without any preparation, so this is done before you begin teaching on your own. This transition period provides the best chance of success for everyone. We're with you every step of the way.
EVENTS
IB JAPAN'S 2019 Seminar has finished.

Our topics this year:
-Encouraging conversation with Elementary students
-Resources! Visual aids and materials that can be used to enhance the textbook and student understanding
-Making the most of the Olympics with English themed activities
-Teacher's Guides are a valuable tool; How can we get the most out of them?
-New textbooks are joining the curriculum; let's get prepared

We hope to see you at the next one!